Just Health™. More communication. Less stigma.

A bridge to the conversation.
Providers ask patients lots of questions about health and behaviors. Diet. Physical activity. Vision. Sleep. Then it might get awkward. For both of you. Mental health. Sex. Alcohol. Drugs. Maybe you rush through it, not saying everything you need to say. Maybe you skip it all together. But why?
Mental health is just health.
Sexual health is just health.
The Just Health™ survey tool is about using technology to enhance human interaction and ultimately improve the quality of healthcare. It helps patients navigate health-related questions, including sensitive topics, prior to a visit. It's a bridge to a richer conversation about all aspects of health.
The COVID pandemic has negatively affected mental health in children and youth, resulting in increased emergency room visits for mental health services. School-based health centers are designed to identify at-risk students and provide early intervention, but remote learning and virtual visit models pose challenges to assessing vulnerability using traditional screening methods. Adapting our models of care to ensure comprehensive, universal screening is imperative – now more than ever.
Just Health™ Telehealth can bring the same universal, comprehensive screening tool that clinicians rely upon in their clinics to remote visits. It reveals conditions and risks across health domains, including social determinants of health, safety, trauma, substance use, anxiety, eating, depression, and sex.
Because even in a changing world where telehealth comes to the forefront, it's all just health.
"I get valuable patient history that might be difficult to get otherwise due to time constraints and/or the discomfort of asking sensitive questions outright. I have had many important and enlightening conversations and have made potentially lifesaving referrals based on Just Health™. Thank you for what you do and, please, keep doing it!"

School-Based Health Center Provider
You're in good hands.
Secure.
We know your data is important – and sensitive. So Just Health™ is completely secure. We're HIPAA and FERPA compliant, and all of your data is encrypted so you never have to worry about records falling into the wrong hands. And we will never share your data with anyone without your consent. That's a promise.
Works offline.
Sometimes the wi-fi just stops working for a day or two. We get it. That's why we designed our app to work without a constant connection to the internet. Have students take a survey at any time, online or off. As soon as you connect to the internet, your new data automatically syncs. It's that easy.
Questions and answers made easy.
Just Health™ features a simple interface that makes it easy to collect data. It's intuitive and easy to use, taking the intimidation out of health surveys.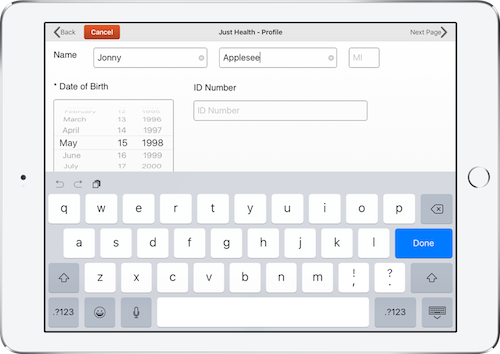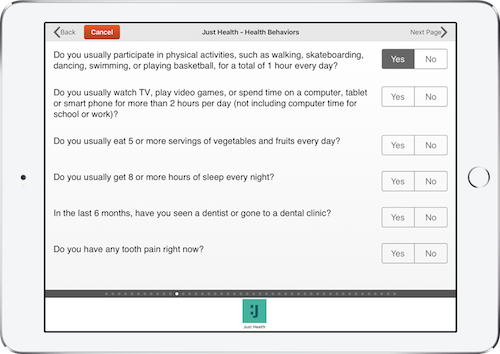 The feedback you need. when you need it.
Learning more about students becomes less of a chore. Just Health™ helps providers focus on the fact that they're changing lives, not just trudging through paperwork. The app highlights key areas of concern, so clinicians can have targeted, focused conversations with students. Simplicity is powerful.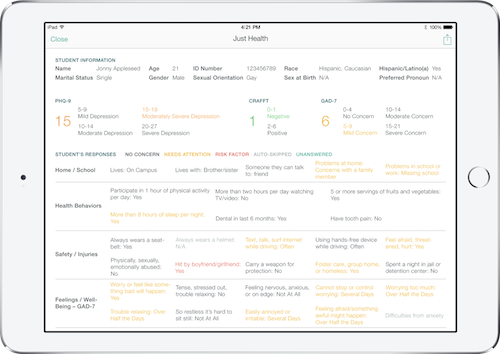 Add perspective. Engage with students.
Just Health™ helps you add perspective to survey responses, turning information into knowledge. When a student takes a survey, that produces data. But when a professional adds comments and reviews the results with the student – suddenly, data become actionable and meaningful.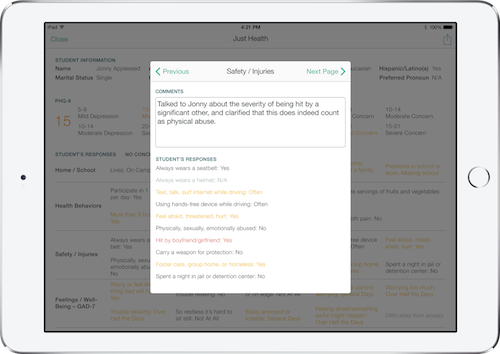 Standalone Screening Tools
Anonymous Feedback Surveys
Just Health™
McKinney Vento homelessness questions
GAD-7
PHQ-9A
C-SSRS
CDC Sexual Health five Ps
Partners
Practices
Prevention of Pregnancy
Protection from STDs
Past History of STDs
Tool
PHQ-9
PHQ-13
GAD-7
C-SSRS
CRAFFT 2.1
VIPRS/IVPIS
SCARED
ACEs
Screens for
Depression
Customized
Anxiety
Suicidality
Substance use
Violence
Anxiety
Trauma
School-Based Health Center (SBHC) Program User Experience Survey
SBHC Program Parent/Guardian Survey
Join the movement. Get the app.
Be part of the effort to implement universal, comprehensive screening for adolescent health services.
Engage with us on social media and be among the growing number of communities using Just Health™ to efficiently collect data and effectively use it to improve communication and care.
Licensed users can download the app on Google Play and the App Store. For licensing information, click below.
Spread the word.
Like what you see? Help raise awareness and stop stigma around mental and sexual health. To order glossy, full color posters for your school, clinic, or community, click below.