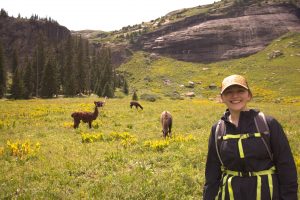 m.occhino@apexeval.org
Role
As a Research Associate at Apex, my role is to conduct analysis of qualitative and quantitative data. Collaborating with my Apex team as well as our clients, I collect, analyze, design, and report data that help address health and social issues within communities. Through my experience with statistical analysis programs and research methodology, I strive to teach individuals the power of data. I got into research because I enjoy being able to cultivate relationships with clients over the impact data and evaluation have on communities.
Background and Education
My passion for research stems from always wanting to learn new things. Through data, that is possible. My previous opportunities working in social science and health research led me to Apex, where I focus my research methodology skills mainly within the field of public health. With a bachelor's degree from the University of New Mexico in Political Science that emphasizes public health, and a minor focused on Psychology, my diverse research background gives me the unique opportunity to evaluate interdisciplinary issues. Besides research, my world revolves around my rescue dog, being outdoors, and enjoying time with friends.